Midtown Farmers Market—Fresh Local Flavor For All.
Enjoy freshly prepared food while you fill your bag with produce, meats and cheeses from local farms, browse the wares of local artists, and enjoy the entertainment. Join us every Tuesday and Saturday throughout the season at the most accessible market in the Twin Cities. Whether you're coming by car, bus, bike, or train, we'd love to see you at the market!
Breakdancing, Bikes, and East African Dance -
July at the Market
This July, we top the usual groovy music, tasty treats, and free fitness classes at the Midtown Farmers Market with a sprinkling of other unique events for good measure. Highlights include: poetry, theatre, dance, and more for our East African Cultural Celebration on July 9th;  bike repair demos, info on local bike tours, bikeways, and safe streets campaigns for Bike Day on July 23rd; and a Sunday market for Open Streets on July 24th, featuring a Breakdancing Battle in the middle of East Lake Street! Scope out special events highlights below, or click here for a complete week-by-week events list, and mark your calendars for a fun-filled month.
Saturday, July 9th – East African Cultural Celebration!
Poetry Performances- 10, 11, and noon – Sarah Ogutu
Music, dance, theatrical performances, and more TBA
Saturday, July 16th – #FeedTheCarrot to Keep the Market Fresh!
Yoga – 8:30am – Imbue Yoga
Music – 9-11 – Common Ground Company | 11-1 – Lonesome Dan Kase
Cooking Demo – 10-noon – Midtown Flavors
Saturday, July 23rd – Bike Day!
Bike-lovers' haven – 8am-1pm – Bike repair demos by Augsburg Fairview Academy's Bike Shop Instructor, info on the Minneapolis Bike Tour, the Midtown Greenway, and Minnapolis Park and Rec safe streets campaigns.
Music – 9-11 – Roe Family Singers | 11-1 – Matt Yetter
Yoga – 8:30am – Imbue Yoga
Sunday, July 24th – Market on Lake Street for Open Streets E. Lake
And, of course, our friendly local vendors will be there every week selling an array of fresh produce, canned goods, honey, cheese, meat, bread, pastries, granola, and more, jewelry, books, and other arts and crafts, and ready-to-eat food to snack on while you browse and soak in the scene!
---
Get Involved – Become a Market Volunteer!
We are in need of volunteers for the 2016 season! As a local, community driven market determined to bring fresh, delicious, locally sourced food to the Corcoran and South Minneapolis community we depend on community volunteers like you.
Volunteers are needed for 2-3 hour shifts every market day to assist with processing SNAP-EBT token and credit card token sales, compost and recycling education, set-up and tear-down of the market, customer counts, and customer engagement. Commit as much or as little time as you can. CLICK HERE for more info or to sign up, or contact Mallory at info@midtownfarmersmarket.org.
---
Confused about the market's location?
Don't be! We're just 300 ft east of where we used to be. See the map below for our exact location: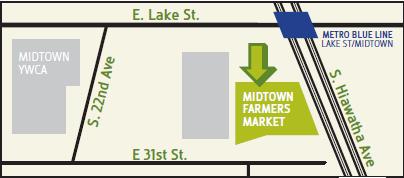 Have a question we didn't answer?  Ask on Facebook or Twitter, or send an email to info@midtownfarmersmarket.org
Contribute Today.
The Midtown Market strives to bring sustainable, affordable food to the community. While there's no roof over an outdoor market, the Market still has overhead expenses: as farmers are busy growing the vegetables and fruits, market staff are hard at work on the nuts and bolts of making a market run. Administering the EBT access, providing a stage for local performers, even the signs and maintaining the parking lot where it all happens takes money and staff time.
Vendor fees only cover half of the cost of running the Market. We rely on the community to contribute the rest. Please donate today!
Online contributions are quick, easy and secure. The Midtown Farmers Market is a project of the Corcoran Neighborhood Organization — please designate your donation to the Market. The Midtown Farmers Market is a 501(c)3. Learn more about what it means to be a Friend of the Market here.