Midtown Farmers Market—Fresh Local Flavor For All.
Enjoy freshly prepared food while you fill your bag with produce, meats and cheeses from local farms, browse the wares of local artists, and enjoy the entertainment. Join us every Tuesday and Saturday throughout the season at the most accessible market in the Twin Cities. Whether you're coming by car, bus, bike, or train, we'd love to see you at the market!
Don't Miss the Party!
Join us Saturday, September 17th for a fun evening to support the Midtown Farmers Market! Meet and mingle with neighbors, vendors and community leaders at Du Nord cocktail room in South Minneapolis.
Enjoy tasty bites from a local food truck, craft cocktails, a silent auction, and live Electro Andean Cumbia by Alma Andina!
Each ticket includes one appetizer or small plate and one complimentary Du Nord cocktail (21+). Plus you'll be entered into the grand prize drawing for a free bottle from Du Nord and a private tour of the distillery. Food truck eats and additional drinks for purchase. All proceeds benefit the Midtown Farmers Market! Get tickets here, and RSVP on Facebook for sneak peeks at all the killer silent auction goods!

---
Get Involved – Become a Market Volunteer!
We are in need of volunteers for the 2016 season! As a local, community driven market determined to bring fresh, delicious, locally sourced food to the Corcoran and South Minneapolis community we depend on community volunteers like you.
Volunteers are needed for 2-3 hour shifts every market day to assist with processing SNAP-EBT token and credit card token sales, compost and recycling education, set-up and tear-down of the market, customer counts, and customer engagement. Commit as much or as little time as you can. CLICK HERE for more info or to sign up, or contact Mallory at info@midtownfarmersmarket.org.
---
Confused about the market's location?
Don't be! We're just 300 ft east of where we used to be. See the map below for our exact location: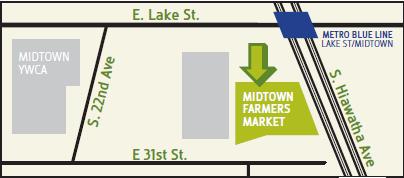 Have a question we didn't answer?  Ask on Facebook or Twitter, or send an email to info@midtownfarmersmarket.org
Contribute Today.
The Midtown Market strives to bring sustainable, affordable food to the community. While there's no roof over an outdoor market, the Market still has overhead expenses: as farmers are busy growing the vegetables and fruits, market staff are hard at work on the nuts and bolts of making a market run. Administering the EBT access, providing a stage for local performers, even the signs and maintaining the parking lot where it all happens takes money and staff time.
Vendor fees only cover half of the cost of running the Market. We rely on the community to contribute the rest. Please donate today!
Online contributions are quick, easy and secure. The Midtown Farmers Market is a project of the Corcoran Neighborhood Organization — please designate your donation to the Market. The Midtown Farmers Market is a 501(c)3. Learn more about what it means to be a Friend of the Market here.