Midtown Farmers Market—Fresh Local Flavor For All.
Enjoy freshly prepared food while you fill your bag with produce, meats and cheeses from local farms, browse the wares of local artists, and enjoy the entertainment. Join us every Tuesday and Saturday throughout the season at the most accessible market in the Twin Cities. Whether you're coming by car, bus, bike, or train, we'd love to see you at the market!
Sorry, no dogs please!

September at the Market:
August 29th- Blood Drive w/Memorial Blood Centers
September 1st- Tuesday market 3-7pm
September 5th- Support the market and #FeedtheCarrot
September 8th- Tuesday market 3-7pm
September 12th- Backyard Ag Day
Second Saturday Arts for All
September 15th-Tuesday market 3-7pm
September 19th- Nordic Fest
Poetry with local writer, Lynette Reini-Grandell
September 22nd-Tuesday market 3-7pm
September 26th- Native American Cultural Celebration
Poetry with local writer, R. Vincent Moniz, Jr.
September 29th-Tuesday market 3-7pm
Thanks to our market sponsors!
YWCA, Loft Literary Center, Wellington Management
Want more information? 
Confused about the market's location? Don't be! We're just 300 ft east of where we used to be. See the map below for our exact location: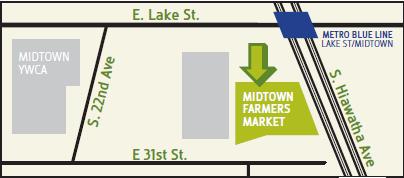 Contribute Today.
The Midtown Market strives to bring sustainable, affordable food to the community. While there's no roof over an outdoor market, the Market still has overhead expenses: as farmers are busy growing the vegetables and fruits, market staff are hard at work on the nuts and bolts of making a market run. Administering the EBT access, providing a stage for local performers, even the signs and maintaining the parking lot where it all happens takes money and staff time.
Vendor fees only cover half of the cost of running the Market. We rely on the community to contribute the rest. Please donate today!
Online contributions are quick, easy and secure. The Midtown Farmers Market is a project of the Corcoran Neighborhood Organization — please designate your donation to the Market. The Midtown Farmers Market is a 501(c)3. Learn more about what it means to be a Friend of the Market here.