Midtown Farmers Market—Fresh Local Flavor For All.
Enjoy freshly prepared food while you fill your bag with produce, meats and cheeses from local farms, browse the wares of local artists, and enjoy the entertainment. Join us every Tuesday and Saturday throughout the season at the most accessible market in the Twin Cities. Whether you're coming by car, bus, bike, or train, we'd love to see you at the market!
Sorry, no dogs please!
2016 Vendor Applications Now Available!
Are you interested in vending at the Midtown Farmers Market? Quality vendors are the heart of the Midtown Farmers Market and we strive to create a balanced and diverse vendor mix each season. Applications from Minnesota and Wisconsin farmers, artisans and producers are welcome! For more information and to access the 2016 vendor application click the following link:
Application Schedule and Deadlines: 
 March 4: Applications due for all vendors except arts and crafts vendors
March 11:  Acceptance notification
April 1: Application deadline for arts and craft vendors
April 2: Annual Spring Vendor Meeting
April 8: Acceptance and first half schedule notification for art and craft vendors
May 7: Opening day, Saturday market
June 7: Opening Day, Tuesday market
August 6: Final payments due, annual vendors
October 25: Closing Day, Tuesday market
October 29: Closing Day, Saturday market
*Applications received after the due date will only be considered if space is still available.
Get Involved, Join the Midtown Farmers Market Advisory Committee!
Are you interested in volunteering and becoming more involved with the Midtown Farmers Market? If so, the market is currently looking for passionate individuals who are interested in helping the market with event planning, communications and public relations, fundraising, volunteer recruitment and on-site market day support. A position description can be found here. Please contact market manager, Miguel Goebel by e-mail,manager@midtownfarmersmarket.org, or by calling 612-724-7457 for more information and additional informational materials about the Midtown Farmers Market Advisory Committee.
Construction Begins! 
Hennepin County Human Services Center and mixed-use development at Lake St/Hiawatha Ave
November 2nd marked the start of an exciting new chapter in the market's history!A ground breaking ceremony was held for the new Hennepin County Human Services Center this past Monday, November 2nd. The transit-oriented development will feature a range of residential options with more than 500 housing units, as well as retail space and parking. Additional elements will include a transit plaza connecting to a public gathering space – a permanent home for the Midtown Farmers Market!Our thanks to Commissioner Peter McLaughlin and Councilmember Alondra Cano for their visionary leadership on this redevelopment project! Thanks to Hennepin County, Minneapolis Public Schools and the BKV Group as well.Learn more about the groundbreaking ceremony by reading one of the articles below.
Confused about the market's location? Don't be! We're just 300 ft east of where we used to be. See the map below for our exact location: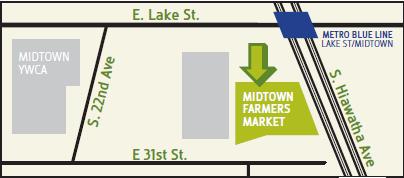 Contribute Today.
The Midtown Market strives to bring sustainable, affordable food to the community. While there's no roof over an outdoor market, the Market still has overhead expenses: as farmers are busy growing the vegetables and fruits, market staff are hard at work on the nuts and bolts of making a market run. Administering the EBT access, providing a stage for local performers, even the signs and maintaining the parking lot where it all happens takes money and staff time.
Vendor fees only cover half of the cost of running the Market. We rely on the community to contribute the rest. Please donate today!
Online contributions are quick, easy and secure. The Midtown Farmers Market is a project of the Corcoran Neighborhood Organization — please designate your donation to the Market. The Midtown Farmers Market is a 501(c)3. Learn more about what it means to be a Friend of the Market here.