Midtown Farmers Market—Fresh Local Flavor For All.
Enjoy freshly prepared food while you fill your bag with produce, meats and cheeses from local farms, browse the wares of local artists, and enjoy the entertainment. Join us every Tuesday and Saturday throughout the season at the most accessible market in the Twin Cities. Whether you're coming by car, bus, bike, or train, we'd love to see you at the market!
Support the Kind of Community We All Want to Live In:
Schedule Your Give to the Max Contribution Now !

We spent the last two Saturdays asking folks to share what they
about the Midtown Farmers Market. Their answers made our hearts smile, and all boil down to this – great food and great community. Now through November 17th, we're asking you to support that community.
Think about what the market community means to you, and consider making a contribution to help us meet our $3,000 fundraising goal. Schedule your Give to the Max Day contribution NOW, and double your money thanks to a $500 matching gift from BKV Group and Launch Properties.
October at the Market  – Enjoy the Bounty of Harvest Season!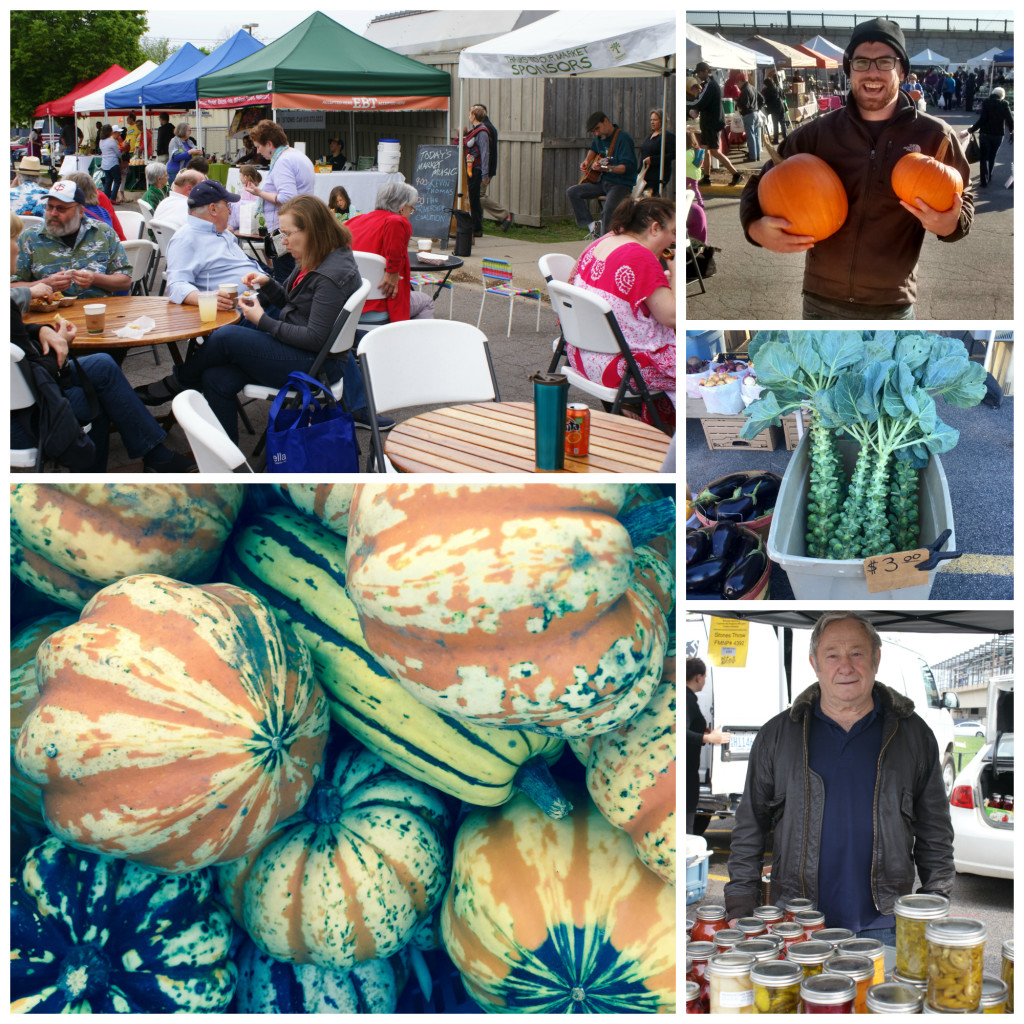 Fall is upon us and the this year's harvest is abundant; our vendor's booths are overflowing with a cornucopia of fresh, locally-grown produce! We begin the month with everything from watermelon to winter squash, and the abundance will continue throughout the month. We're open every Tuesday and Saturday through the end of October – so come early and often to take advantage of all the delicious seasonal produce before the dark days of winter grocery shopping set in. Be sure to subscribe to our newsletter to receive week-by-week updates on what's available as the harvest progresses. Now is also the time to stock up on fresh ingredients for all of your fall canning, pickling, fermenting and prerserving needs so you can keep things local well into the winter months.
In addition to loads of fresh produce, locally-produced food, and beautiful local art, we've got live music, and food truck grub every week, and monthly cooking demos, interactive arts activities, and free yoga classes. Click here for the full schedule of October happenings, and come on down to the market to get your share of the harvest!
---
Get Involved – Become a Market Volunteer!
We are in need of volunteers for the 2016 season! As a local, community driven market determined to bring fresh, delicious, locally sourced food to the Corcoran and South Minneapolis community we depend on community volunteers like you.
Volunteers are needed for 2-3 hour shifts every market day to assist with processing SNAP-EBT token and credit card token sales, compost and recycling education, set-up and tear-down of the market, customer counts, and customer engagement. Commit as much or as little time as you can. CLICK HERE for more info or to sign up, or contact Mallory at info@midtownfarmersmarket.org.
---
Confused about the market's location?
Don't be! We're just 300 ft east of where we used to be. See the map below for our exact location: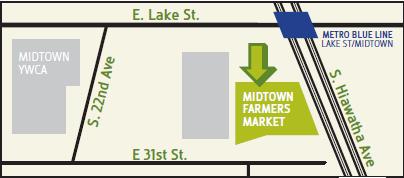 Contribute Today.
The Midtown Market strives to bring sustainable, affordable food to the community. While there's no roof over an outdoor market, the Market still has overhead expenses: as farmers are busy growing the vegetables and fruits, market staff are hard at work on the nuts and bolts of making a market run. Administering the EBT access, providing a stage for local performers, even the signs and maintaining the parking lot where it all happens takes money and staff time.
Vendor fees only cover half of the cost of running the Market. We rely on the community to contribute the rest. Please donate today!
Online contributions are quick, easy and secure. The Midtown Farmers Market is a project of the Corcoran Neighborhood Organization — please designate your donation to the Market. The Midtown Farmers Market is a 501(c)3. Learn more about what it means to be a Friend of the Market here.