Midtown Farmers Market—Fresh Local Flavor For All.
Enjoy freshly prepared food while you fill your bag with produce, meats and cheeses from local farms, browse the wares of local artists, and enjoy the entertainment. Join us every Tuesday and Saturday throughout the season at the most accessible market in the Twin Cities. Whether you're coming by car, bus, bike, or train, we'd love to see you at the market!

Opening Day Food Truck Fest is May 7!
Opening Day of the Midtown Farmers Market for the 2016 Season is May 7, and we'll kicking things off with a bang at our 2nd Annual Food Truck Fest! We'll be hosting some of long-time favorites like Kabomelette, Fireroast Cafe, and the Moral Omnivore, along with a slew of exciting guest food trucks for the day. We'll also hosting a Blood Drive with Memorial Blood Centers to help those in need and our Corcoran Parklet skee ball ramp, ping pong table and outdoor seating will all be back in place and ready for action, don't miss out! Additional market event dates below:
May 7th – Opening Day Food Truck Fest and Blood Drive
May 14th – Urban Ag. Day
May 21st – Youth Leadership Day
June 11th – Bee and Pollinators Day
June 25th – African American Heritage Day
July 9th – East African Cultural Celebration
July 23rd – Bike Day
July 24th – East Lake Open Streets (Sunday Market)
August 6th – Midseason Food Truck Fest
August 20th – Festival del Maíz
September 10th – Nordic Fest
September 24th – Native American Celebration
October 29th – Closing Day Food Truck Fest
Get Involved, Join the Midtown Farmers Market Advisory Committee!
Are you interested in volunteering and becoming more involved with the Midtown Farmers Market? If so, the market is currently looking for passionate individuals who are interested in helping the market with event planning, communications and public relations, fundraising, volunteer recruitment and on-site market day support. A position description can be found here. Please contact market manager, Miguel Goebel by e-mail,manager@midtownfarmersmarket.org, or by calling 612-724-7457 for more information and additional informational materials about the Midtown Farmers Market Advisory Committee.
Confused about the market's location? Don't be! We're just 300 ft east of where we used to be. See the map below for our exact location: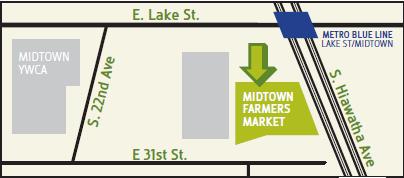 Contribute Today.
The Midtown Market strives to bring sustainable, affordable food to the community. While there's no roof over an outdoor market, the Market still has overhead expenses: as farmers are busy growing the vegetables and fruits, market staff are hard at work on the nuts and bolts of making a market run. Administering the EBT access, providing a stage for local performers, even the signs and maintaining the parking lot where it all happens takes money and staff time.
Vendor fees only cover half of the cost of running the Market. We rely on the community to contribute the rest. Please donate today!
Online contributions are quick, easy and secure. The Midtown Farmers Market is a project of the Corcoran Neighborhood Organization — please designate your donation to the Market. The Midtown Farmers Market is a 501(c)3. Learn more about what it means to be a Friend of the Market here.