Midtown Farmers Market—Fresh Local Flavor For All.
Enjoy freshly prepared food while you fill your bag with produce, meats and cheeses from local farms, browse the wares of local artists, and enjoy the entertainment. Join us every Tuesday and Saturday throughout the season at the most accessible market in the Twin Cities. Whether you're coming by car, bus, bike, or train, we'd love to see you at the market!
Sorry, no dogs please!
Mini Market atAugust 2nd
Have you heard the Midtown Farmers Market will be holding a special Sunday market on August 2nd as a part of Open Streets Minneapolis East Lake Street! The market will be located at E. Lake and Hiawatha Ave, under the Hiawatha Ave Bridge and will offer fresh produce, ready to eat foods, arts and crafts and more from 11am-5pm!

July and August at the Market:
July 25th-
July 28th- Tuesday Market, 3-7pm
August 1st-East African Celebration
Music and dance performances
Somali Cultural Museum display
Poetry reading by local poet, Nimo Farah
August 4th- Tuesday Market, 3-7pm
August 8th- #FeedtheCarrot Day
Puppet show by Seth Eberle
August 11th- Tuesday Market, 3-7pm
August 15th- Bike Day
Bike Valet with Calhoun Cycle
Biking resources and information from SPOKES and Cycles for Change, Full Cycle, and Minneapolis Bike Coalition
August 18th- Tuesday Market, 3-7pm
August 22nd- Festival del Maiz
Poetry reading by local poet, Teresa Ortiz
August 25th- Tuesday Market, 3-7pm
August 29th- Blood Drive w/Memorial Blood Centers
Thanks to our market sponsors!
Want more information? 
Confused about the market's location? Don't be! We're just 300 ft east of where we used to be. See the map below for our exact location: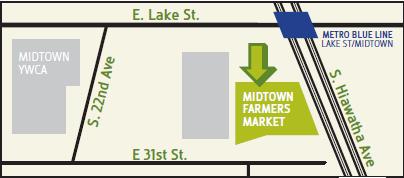 Contribute Today.
The Midtown Market strives to bring sustainable, affordable food to the community. While there's no roof over an outdoor market, the Market still has overhead expenses: as farmers are busy growing the vegetables and fruits, market staff are hard at work on the nuts and bolts of making a market run. Administering the EBT access, providing a stage for local performers, even the signs and maintaining the parking lot where it all happens takes money and staff time.
Vendor fees only cover half of the cost of running the Market. We rely on the community to contribute the rest. Please donate today!
Online contributions are quick, easy and secure. The Midtown Farmers Market is a project of the Corcoran Neighborhood Organization — please designate your donation to the Market. The Midtown Farmers Market is a 501(c)3. Learn more about what it means to be a Friend of the Market here.