Midtown Farmers Market—Fresh Local Flavor For All.
Enjoy freshly prepared food while you fill your bag with produce, meats and cheeses from local farms, browse the wares of local artists, and enjoy the entertainment. Join us every Tuesday and Saturday throughout the season at the most accessible market in the Twin Cities. Whether you're coming by car, bus, bike, or train, we'd love to see you at the market!

2017 Vendor Applications Now Available!
Are you interested in vending at the Midtown Farmers Market? Quality vendors are the heart of the Midtown Farmers Market and we strive to create a balanced and diverse vendor mix each season. Applications from Minnesota and Wisconsin farmers, artisans and producers are welcome! Visit our website, www.midtownfarmersmarket.org, for more information and to access the 2017 vendor application, or click the following link: 
2017 Midtown Farmers Market Online Vendor Application
2017 Application Schedule and Deadlines:
March 3: Priority Application Deadline (for all vendors except arts & craft vendors)
March 10: Acceptance notifications
March 31: Priority Application Deadline for art & craft vendors
April 7: Acceptance Notifications for art & craft vendors
April 8: Annual Spring Vendor Meeting
May 6: Opening Day, Saturday Market
June 6: Opening Day, Tuesday Market
August 5: Final Payments Due for Annual Vendors
October 28: Closing Day, Saturday Market
October 31: Closing Day, Tuesday Market
*Applications received after the due date will only be considered if space is still available.
Confused about the market's location?
Don't be! We're just 300 ft east of where we used to be. See the map below for our exact location: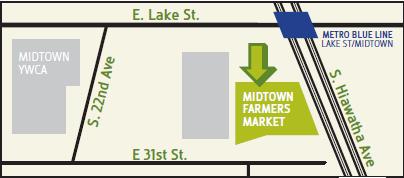 Contribute Today.
The Midtown Market strives to bring sustainable, affordable food to the community. While there's no roof over an outdoor market, the Market still has overhead expenses: as farmers are busy growing the vegetables and fruits, market staff are hard at work on the nuts and bolts of making a market run. Administering the EBT access, providing a stage for local performers, even the signs and maintaining the parking lot where it all happens takes money and staff time.
Vendor fees only cover half of the cost of running the Market. We rely on the community to contribute the rest. Please donate today!
Online contributions are quick, easy and secure. The Midtown Farmers Market is a project of the Corcoran Neighborhood Organization — please designate your donation to the Market. The Midtown Farmers Market is a 501(c)3. Learn more about what it means to be a Friend of the Market here.