Hello everyone we love you all! A few fun updates:
Tuesday markets struggled during the initial drought of June, but they are back! July 11th marks the start-back of our Tuesday markets (3-7pm) and we have music, community tables, fruits n veggies, yummy snacks and much more to offer! The first few markets will probably look smaller than usual — please come show up and show out! Our community needs this market and our vendors need your love. Check our social media for weekly updates on entertainment, vendors and specific market events.
**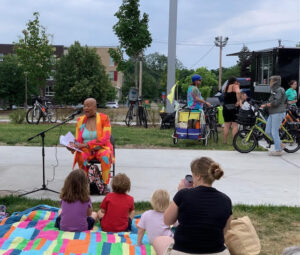 Picture Book Parade is now hosting weekly Story Book Hour, right at 10:15 each Saturday! Great for families and open to all ages, Picture Book Parade features local authors' children's books and offers free books to any young person coming to the market!
**
At the bottom of our website is a link to join the email newsletter! We send out weekly emails with information about Tuesday and Saturday markets, so if you do not use social media or need a text-based way to get information, please jump on the newsletter!
**
Come see us at the market any Saturday or Tuesday until the end of October, and say hi at the info booth, always located at the North side of the market (near Lake street and the bathrooms) and always staffed with smiling faces! Don't forget about our spare metal and small electronics recycling programs, Behind the Breadbox's clear plastic bag recycling program, or our weekly food and materials drive for our community food shelf, the C-Spot!