Posted July 12, 2013 at 11:45 am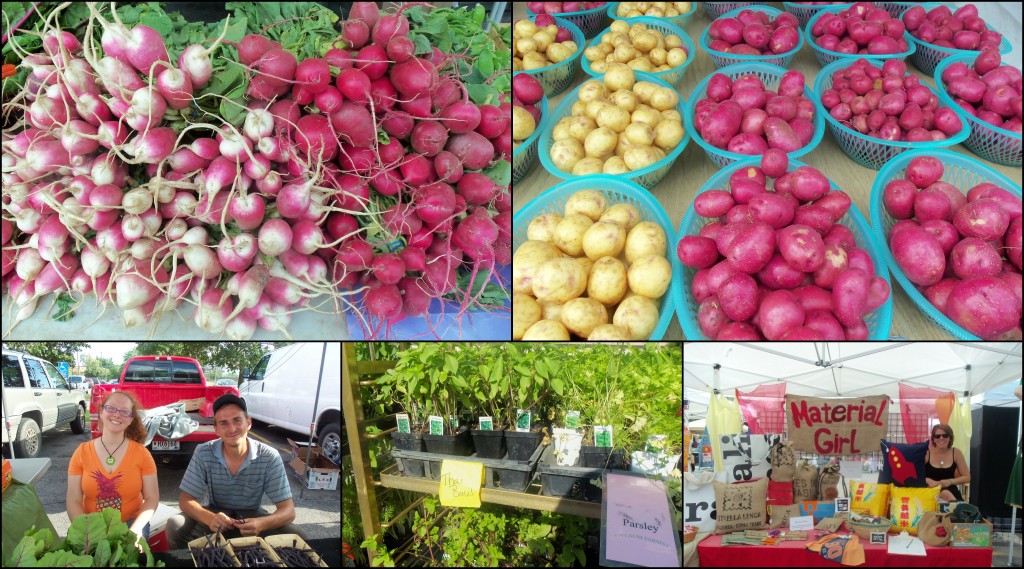 Welcome the Colors of the Summer Market!
Now that Mid-July is here and the growing season is in full swing the market is gaining color every day! The luscious reds of strawberries, the yellows and greens of gorgeous summer squash and zucchini, the deep purple of kohlrabi and the vibrancy of our customers fill the market each Saturday from 8am – 1pm and Tuesdays from 3pm – 7pm.
Early birds are welcome to join us at the market at 8am this Saturday for Yoga with Billy (Elizabeth) Harness from the YWCA. Then enjoy the colorful market sights and smells with your neighbors, learn more about reducing waste from the Master Composters, join Martha for the Second Saturday Activity and so much more! Stop by Tuesday for dinner from Tollefson's Family Pork, and pick up your weekly produce, bread and more.
Thanks to everyone who has made our composting program a success thus far. Keep up the great work and don't forget – food and paper scraps in the compost bin! If you are interested in helping us implement the program, email us at info@midtownfarmersmarket.org
What's Available? 
This Saturday find:
~Strawberries, broccoli, snap peas, green beans, kohlrabi, radishes, turnips, beets, lettuce, spinach, kale, swiss chard, arugula, bok choy, scallions, onions, potatoes, summer squash and zucchini, cucumbers, rhubarb, dried chiles, herbs, grass-fed beef, pasture raised pork and chicken, lamb, eggs, cheese, yogurt, butter, jams and jellies, pickled veggies, maple syrup, artisan breads, granola, flowers, bedding plants and seedlings
~Coffee, tea, scones, croissants, cookies, fruit tarts, breakfast pastries, sambusas, breakfast sandwiches, omelets, kabobs, burgers, tacos, burritos, tamales, Thai dishes, kettle corn, and popsicles
~Jewelry, photography, hand sewn clothing, handmade soap and cutting boards
This Tuesday find:
~Strawberries, tomatoes, broccoli, peas, beans, radishes, beets, kohlrabi, summer squash and zucchini, cucumbers, lettuce, salad mix, beta mix, spinach, arugula, collards, rainbow chard, scallions, onions, potatoes, rhubarb, pea shoots, salad turnips, kale, yukina savoy, herbs, pasture raised pork, maple syrup, wild rice, artisan breads, flowers, bedding plants and seedlings
~Burgers, bratwursts, hot dogs, pork chops, popsicles, croissants, cookies and fruit tarts
This week at the market: 
Saturday, July 13
8am Yoga with Billy (Elizabeth) Harness from the YWCA
BYO Yoga Mat and Water
10 Second Saturday Activity with Martha Zemur
Big changes happen at the Midtown Farmers Market !   Saturday mornings and Tuesday afternoons a parking lot along Lake Street turns into a beautiful and festive place to meet up with friends, family, farmers, bakers, and makers.  Food comes in and goes out.  And now !  recycling of all sorts happens.  This Second Saturday from, 10:00 until noon, celebrate the new-this-season recycling efforts by creating some recycling games, making something from "trash," and sorting it all out !  Everyone welcome, join in.
Community Tables
Market Music
9am – 11am Art Vandalay
11am – 1pm Sister Species
Tuesday, July 16
Community Tables
Market Music
3pm – 5pm Brian Peterson
Thank You to this Saturday's Sponsors!