Posted May 5, 2015 at 8:02 pm
Join us from 8am-1pm as we celebrate Mother's Day this week at the market!
Did you know that a woman named Anna Jarvis conceived of the Mother's Day idea back in 1908? She created a huge letter writing campaign and in 1914, Woodrow Wilson officially established Mother's Day as a national holiday.  Ms.  Jarvis envisioned the holiday as opportunity for children to spend quality time with their mother's. In later years, Ms. Jarvis would file countless lawsuits to attempt to move the holiday away from rampant consumerism.
We market staff believe that Ms. Jarvis would agree that a day out at the Midtown Farmers Market with the mothers in your life is a great way to honor them.
So, bring the moms in your life to the market to listen to great music and shop for tasty food.
Thanks to Blackbird Music, the Flying Shoes (9-11am) and Bob and Lynn Dixon (11am-1pm) will set the festive, mother-celebrating mood.
Treat yourself and the mothers in your life to a perfect, thoughtful, locally produced gift from our special pop-up vendor, Acanthus Floral Art, or from one of our other many amazing vendors who will be selling plants, art and crafts to make a perfect gift.
If you're a mom, don't forget to stop by the Information Booth to enter the free raffle for cool prizes donated by our wonderful vendors.
Ask-A-Mom:
  Moms, like doctors, have MD's or Mothers Degrees – essentially the ability to come up with real      remediesOur panel of community moms is here this Saturday to give lighthearted, fun and real world    advice for market patrons. Both Melissa and Meg have a lot of "Mom" credibility and community  experience and they are willing to answer questions on cooking, relationships and dating, fashion, raising  kids and any other topics you may need advice on.
Along with advice our moms will hand out organic animal crackers, Hershey kisses to make things better,  and band-aids for life's little boo-boos.  Stop by the booth from 10:00am-12:00pm!
Meet the Moms:
Meg Tuthill is a mom of three children – Carmen 49, Mitch 47 and Matt 45. Sheand her husband Denny adopted their daughter Carmen when she was 8 years old. Her kids grew up in Minneapolis Public Schools, took public transportation and all of them participated in community events and worked in the family "party goods" store.  Meg now has three grandchildren.
Melissa Foster is the single mom of one child, a daughter Ciara who is 13 years old. She gets her mom"cred" for raising a High Honors student who is well-rounded and mature. Melissa has worked hard to counter the negativity of being a single black mom, while steering her child around all of the common traps and labels that can immobilize our children.
Meg and Melissa are looking forward to seeing you on Saturday!
Location of the Market:
The market is located at the southwest corner of the intersection of East Lake Street and Hiawatha Avenue, at 2225 East Lake Street in Minneapolis. This year, to accommodate construction of Hennepin County's Family Service Center along with Phase 1 of the L&H Station development, the market will be operating just around the corner from where it has previously been (see image and news release below for additional information about the market and the L&H station development). A Public Plaza to accommodate the Midtown Farmers Market and other public activities will be built during Phase 2.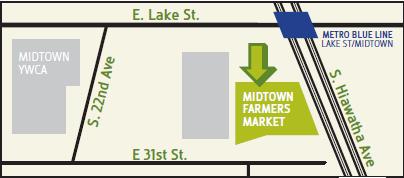 Click here to learn more about the the L&H Station development.

Pop-up Parklets! 
The location of the farmers market this season offers new opportunities to engage more fully with our surroundings. This summer, we've partnered with the placemaking firm The Musicant Group to transform underused portions of the new space into active places for people to enjoy. Visitors will be treated to outdoor ping pong, sloped seating and a giant skeeball game on the grassy knoll fronting the LRT station. These installations will not only improve the market experience, but help guide the eventual design and programming of the permanent plaza to be built as part of phase 2 of the L+H Station development.
Free Fitness classes with YWCA!

Come to the market at 8:30 to participate in the R.I.P.P.E.D class taught at the market by our friends at the YWCA.