Posted June 9, 2015 at 9:21 am
This weekend is our second "Feed the Carrot!" day of the 2015 market season, when we ask you to support the market with a cash donation. Your donation shows your love for the market, and helps it continue to grow and thrive. This is your chance to show your support! Make sure to take pictures, make posts on Facebook, Twitter and Instagram, then tag them with #FeedTheCarrot to encourage your friends, family and neighbors to do the same.
Why should you donate to the market?
Vendor fees pay for less than one-half of the operating costs of keeping our market running. Passing on the full cost of the market operations to our vendors would cause prices to rise and be passed on to customers. But shoppers at the market can offset this cost by donating what you can, keeping the market as affordable and accessible as possible!
A link to our Facebook event can be found here – be sure to click attending and share it with friends and neighbors!
Don't forget about FREE YWCA classes at the market each week!  R.I.P.P.E.D is on Saturdays from 8:30-9:30am.  Zumba is on Tuesdays from 5:30-6:30pm.
Available at Saturday's market:
~Asparagus, rhubarb, radishes, spring greens, green beans, green onions, herbs, seedlings, bedding plants, hanging baskets, grass-fed beef, free range chicken and eggs, pasture raised pork and lamb, cheese, butter, yogurt, honey, maple syrup, jellies and jams, sauces and salad dressings, kimchi, sauerkraut, granola, artisan breads, baked goods, omelettes, kabobs, tacos, burritos, tamales, chilaquiles, banh mi sandwiches, pancakes, samosas, pakoras, coffee, juices, kettle corn, boiled peanuts, bubble tea, frozen fruit bars and more.
~Handmade clothing, soaps, terrariums, photography, books and more.
Available at Tuesday's market:
~Asparagus, rhubarb, radishes, spring greens, green beans, green onions, herbs, seedlings, bedding plants, hanging baskets, kettle corn, bubble tea, sliders, seedlings, hanging baskets, jams, sauces, rhubarb, cheese, and more.
~Henna art, homemade hair and body products, and more.
Saturday Community Tables:
-Hennepin County Master Gardeners
-Women Against Military Maddness (WAMM)
Saturday Market Stage Schedule 
9:00-11:00am Folks 'n' Thieves
11:00-1:00pm The Skally Line
Tuesday Market Stage Schedule
3:30-5:30pm String Alliteration
Want more information?

 Confused about the market's location? Don't be! We're just 300 ft east of where we used to be. See the map below for our exact location: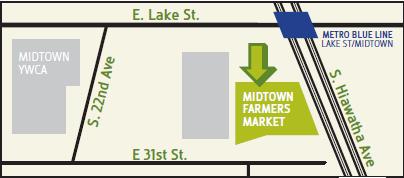 Have a question we didn't answer?  Ask on Facebook or Twitter, or send an email to info@midtownfarmersmarket.org
Call for Theater at the Midtown Farmers Market 2015 Season!
The Corcoran Neighborhood Organization seeks experienced theater groups to provide engaging, fun, family-friendly performances at the Midtown Farmers Market during the Market season: May – October 2015. Ideal performances would be 1-hour or shorter as the Market has a variety of programming throughout each market day.
Click here for more information.
Market Seeks Volunteer with Urban Design Skills
Do you love the Midtown Farmers Market? Do you also have professional skills in urban design, site planing, or architecture? The Market seeks a strong "spatial thinker" to represent its interests on a citizen committee that will advise on design of the new public plaza to be built at the market's current location ( learn more about plans to accommodate the Market in redevelopment plans here). If you are interested please contact Market Manager, Miguel Goebel atmanager@midtownfarmersmarket.org
or 612-724-7457 or stop by the market info booth and introduce yourself!