Tuesday, July 7th, 2015
Attention Nonprofits and Community Organizations–
Community Table Application Now Open!
Planning your outreach, recruitment, and/or fundraising efforts for the year? Connect with your community this season at the Midtown Farmers Market!
Each season, we welcome nonprofit organizations to reach out to community members at the Market through our Community Table program. The Market operates at the corner of E. Lake Street and Hiawatha Ave (map below) every Saturday May-October from 8am-1pm, and every Tuesday June-October from 3pm-7pm.
A diverse crowd of approximately 2,000 community members visits the Market each Saturday and 500 each Tuesday to buy locally produced food items, shop for beautiful handmade art, check out live musical performances, and learn about the work of our Community Table partner organizations. Community Tables offer a great opportunity for program outreach, awareness-raising, education, marketing, fundraising, member or volunteer recruitment, and old-fashioned community building. We charge a small fee to help cover the administrative costs of running the Community Table program — $25 per Saturday market, $15 per Tuesday market, and an additional $15 per day to rent a tent, table, and chairs from us.
Interested? Click here to check out our Community Tables Policy & to apply to reserve your space!
---

2017 Vendor Applications Now Available!
Are you interested in vending at the Midtown Farmers Market? Quality vendors are the heart of the Midtown Farmers Market and we strive to create a balanced and diverse vendor mix each season. Applications from Minnesota and Wisconsin farmers, artisans and producers are welcome! See below for additional information and important dates and click the following link to access the 2017 application: 
2017 Midtown Farmers Market Online Vendor Application
2017 Application Schedule and Deadlines:
March 3: Priority Application Deadline (for all vendors except arts & craft vendors)
March 10: Acceptance notifications
March 31: Priority Application Deadline for art & craft vendors
April 7: Acceptance Notifications for art & craft vendors
April 8: Annual Spring Vendor Meeting
May 6: Opening Day, Saturday Market
June 6: Opening Day, Tuesday Market
August 5: Final Payments Due for Annual Vendors
October 28: Closing Day, Saturday Market
October 31: Closing Day, Tuesday Market
*Applications received after the due date will only be considered if space is still available.
Confused about the market's location?
Don't be! We're just 300 ft east of where we used to be. See the map below for our exact location: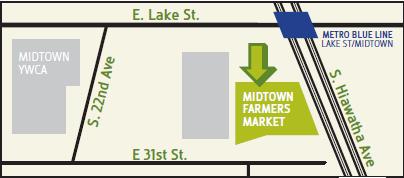 Save
Save